We leave on Monday for our first beach trip of the year, to Edisto Beach South Carolina with my family. So this week, I am in full-fledged packing mode! I don't know about you, but I am not the kind of gal that can just throw all our clothes in a suitcase Sunday night to leave Monday morning, oh no. I have had a list for each person going for about 2 weeks now, of all the things we need to pack, the things I need to buy, the things that need to be washed, pulled out of the basement, etc., etc., etc. It tales me forever, but more than I hate the thought of leaving something behind, I really hate having to be rushed. So, I spread it out, and pack a little bit everyday for the week, and by Sunday, I'll have everything ready to go.
Ever since having kids, beach trips have been different. About a thousand times more exhausting, and about a thousand times more fun. And kids have made the way I pack very different, especially for myself. Trunk space is at a premium in our trusty old Tahoe, and I would much rather make sure that I have any and everything the kids may need, and simplify what I bring for myself. So I have made a list of my beach essentials; those items that I always pack in my beach bag to ensure a fun morning/day/afternoon or whatever at the beach.
Beach Bag and Cooler
Obviously, one of the most important parts of heading down to the beach is a beach bag, and a cooler for drinks and snacks. I have these bags from Scout (I have an older pattern, but I love this aztec print!), and love them. They are polypropylene, so they are very easy to clean (hose them out or wipe them off!), and hold a TON of stuff. Which is key for a beach bag. Because it seems like no matter how simplistic my packing is on our way down to the beach when we are headed back to the house, I have more toys, trash, junk, and food than I started with. How does that even happen?? I also have this bag and this bag from ThirtyOne Gifts (again, in older prints) that are similar to the Scout bags but in a coated cotton. Also good choices! I pack the cooler FULL of snacks and drinks- water, juice, those boxes of organic milk, goldfish crackers, peanut butter crackers, apple slices, grapes, cheese sticks, yogurt tubes, etc. And then maybe a beer or 15 or a pitcher of margaritas for the adults?? :)
Drink Glass and Beach Spike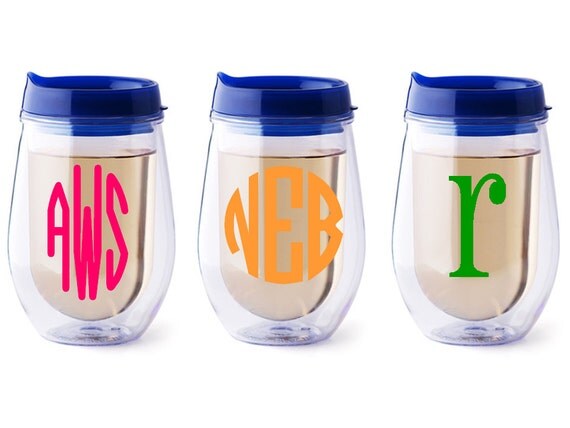 I think these are two ingenious beach inventions!! The beach spike sticks right into the sand so you can set your drink down without it getting all sandy and tipping over onto your beach towel, and then the double walled wine glass with a lid keeps your wine or mixed drink or beer, or whatever nice and cold for longer. And it has a lid. Genius. I bought mine a few months ago and even use it at home! It's such a great idea, that I bought one for my mom and mother in law, and as an early birthday present for my sister in law, since we all go to the beach together each year. And countless numbers of my friends have them too, and are obsessed as I am. Definitely a necessity!
Beach Mat and Towels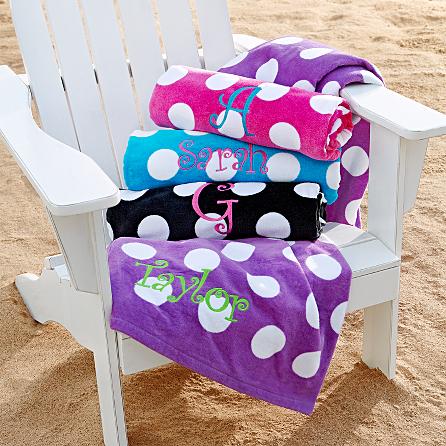 Maybe
slightly
more important then the spike and glass, are the towels, ha! We like having a big beach mat down so the kids can play or I can lay on my stomach (for about a minute and a half, before I have to chase down one of the monkeys :)). I love
this one
that rolls up and has a strap on it, so you carry it over your shoulder or toss it in your bag. And you know I'm a sucker for any and everything personalized, so everyone has
their own personalized beach towel
to wrap up in.
Beach Toys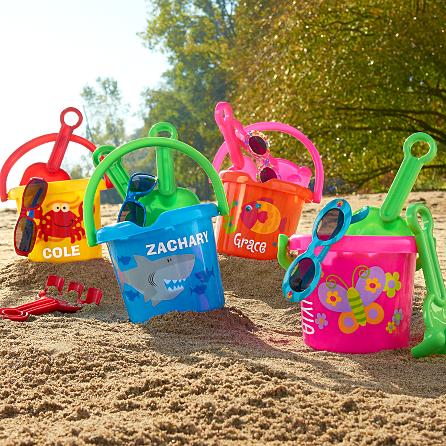 The kids are not old enough to enjoy just lying on the beach catching rays like their mommy does. :) So obviously, toys are a MUST. We have a whole host of fun things to do that we take down to the beach:
Buckets and Shovels (Classics)
Wheelbarrow and Rakes
Inflatable Baby Pool (awesome if you have a baby that's not quite walking yet, or just started to walk. They can sit up with the adults and play in the water, and it will keep them occupied for a good stretch)
Paddle Ball or Velcro Ball Game
Blow Up Swords (my sister in law brought these to the beach last year and they were a hit with the little ones, and also the silly daddies :))
Sand Digging Claws
Beach Ball, Football, Whiffle Ball Set, etc.
Corn Hole and Ladder Golf (for the adults :))
Beach Bag Toiletries
There are the not-so-fun parts of the beach stash that are absolute necessities too, of course. Here's what I pack in a smaller zippered bag inside the beach bag for easy access:
Extra Diapers and Swim Diapers
Baby Wipes
SUNSCREEN (duh)
Aloe Vera lotion (Everyone knows that aloe vera is good for sunburns, but I read recently that aloe vera gel actually creates a seal on the skin making it hotter! But aloe vera lotion seeps into the skin and doesn't create a seal, so it cools the skin better)
Baby Powder to easily remove sand (works really well!)
Bandaids and Neosporin
Sunglasses, Hats, Flip Flops and Coverups for EVERYONE
I like to maximize my beach time and stay out as long as possible. But you just cannot stay out in the hot sun all day long without a bit of relief, especially with kids. Hats and coverups are key for all of us, and sunglasses to protect our eyes. The girls have a thousand pairs of sunglasses, and cute floppy straw hats. Ben has a few cute bucket hats, and I have a big straw hat and a few baseball hats (as does Scott). T shirts are easy coverups for the boys, and we girls have tunics and loose dresses that we use as coverups to shield ourselves from the sun.
Beach Tent
And, the tent. Perfect for getting out of the sun, baby naps, eating lunch, and just getting a bit of shade. There are lots of different kind of beach tents, and we usually use a big tailgating tent since they provide plenty of room and shade, and are very easy to assemble and put up.
Beach Chairs
I don't know about you, but my poor mama back cannot take switching from back to front for 8 hours on the beach anymore. Plus, it's next to impossible to keep an eye on busy beach babies laying on a towel! So, last year we got some great beach chairs from Target, and have been more comfortable on the beach ever since. Cupholders? A necessity. The ones we got also have backpack straps so you can carry the chairs on your back rather than having to tote them with every other bag you're carrying. The kids chairs are not a true necessity (we took them a few years ago, and the girls only sat in them one short spell), but, OMG, aren't those adorable?!
So what have I left off? There are about 4000 more things that I like to bring to the beach with us, but these are the absolute necessities. What are your necessities? What can you not go to the beach without?