TGIF friends! It has been quite a busy week, and honestly, I'm glad it's over and we have a relaxing weekend ahead! I'm joining the Five on Friday link up again, and sharing five things with you today!
ONE
We had a BLAST at Catch Air with some good friends earlier this week! If you're not familiar, Catch Air is just a big indoor playground, filled with bouncy houses, slides, ball pits, you name it, they have it. Lots of places like it are popping up, and they are a dream for kids and moms alike; kids just go nuts and have a ball inside them, and moms love the promise of good naps later on! Brantley, Grayson and Ben would've stayed all day long, and honestly, I had a really great time playing with them in there too. Brantley and Ben were flying down the slides, and jumping all over, and even my shy Gracie worked her way down a few slides herself. And if you want a little laugh, check out this video of the sweet girl easing and wiggling her way down the first slide! Poor girl!! It was the biggest one, so you gotta give her that. And don't mind me laughing at her the whole time... :) And PS-that little girl was put on this earth to wear pigtails. The cutest!! :)
TWO
If you follow me on Instagram, you probably saw that we tried out a recipe for Refrigerator Oatmeal the other night, and it was AWESOME! I'll go into more about it in a post next week, but it is a great way to have a super healthy breakfast made and ready for you in the mornings! I am not a breakfast eater, and even I sat down and enjoyed a bowl with the kids. There are so many ways to personalize it and make it your own, and create new recipes, that I can't wait to make more!
THREE
Can I just tell y'all how much these kids love their Daddy? We are lucky to have Scott here with us most days since he works from home (he has an office in our basement), and when the kids hear him coming up the stairs, they all yell, and start running for the door, he busts through, and everyone yells, "Daddy!!!!! Da-da!!!! Daddy! Daddy! Da-da!" They are were demanding that Scott take a picture with them before school one day (the above shot), and he was so sweet to pose with them.
The kids' favorite part of the day is probably in the evenings when Scott plays "Monster" and runs through the rooms chasing the kids, which inevitably ends in giant wrestling match. They love it and shriek and squeal and squirm, and play, and love and hug, and I love watching it all. He is such a good daddy, and they couldn't adore him any more. He's a good one, that Scott. :)
FOUR
Speaking of Scott, he has gotten a pretty solid recipe down for Grilled Chicken. I am actually not a huge fan of chicken on the grill, since it can so often come out dry and overdone. But Scott has perfected a marinade that keeps even boneless skinless chicken breasts nice and juicy. I saw this recipe, though, on Pinterest the other day, and thought it might be a good variation. Doesn't it sound and look SO good? WE're gonna try it out this weekend.
FIVE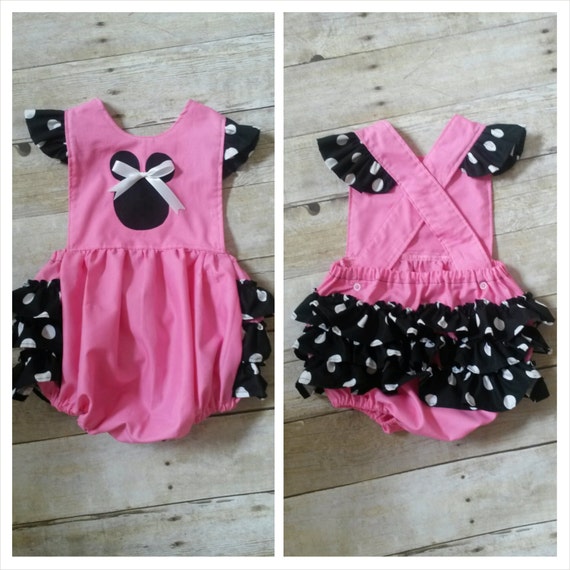 This adorable Minnie Mouse Criss Cross Ruffle Bubble was actually a custom order for a wonderful repeat custom er of mine, but it has become a hit in my Etsy shop! I posted it on Facebook, and had tons of interest, so I went ahead and put it in the shop and have already sold 3 more! If you are headed to Disney, or (in my customer's case) are throwing a Minnie Birthday party, or just have a die hard Hot Dog Song fan (any mothers of toddlers who watch Mickey Mouse Clubhouse will get that :)), this bubble is perfect! And PRECIOUS! Check it out here. :)
And with that, we are on to the weekend! Hope you have a great one, see you on Monday! :)
XOXO!