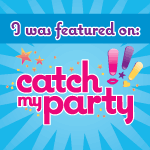 I was SOOO excited a few weeks ago when I was notified that Brantley and Grayson's Fairy Garden Birthday Party was going to be the Party of the Day on the fabulous party planning website, Catch my Party!!
You can check it out on Catch My Party here, or take a look at my original post about the party here.
Hip, hip, hooray! And thanks, Catch My Party!!