Since we are already more than halfway through April (what????!!!), swimsuit season is getting frighteningly closer. I looooove the beach, and am counting down the days until our family beach trips this summer, but I am NOT looking forward to sporting a swim suit! And the annual swim suit shopping trip is also looming, and honestly, I am dreading it.
I am actively eating more healthy and getting my body moving in an effort to lose the rest of my baby weight, but I'm still going to need some serious tricks and camouflage to look somewhat decent while laying back in my chair, relaxing with an adult beverage and magazine, soaking up the rays.
(For those of you who are moms, you know I am totally in a dream world, and there's no way I'll ever get a moment of rest on the beach; I will be chasing my three darling babies around, building sandcastles, flushing sand out of eyes, applying sunscreen, jumping waves, etc. And I wouldn't have it any other way. :))
So, for my Five on Friday post today, I am posting 5 swim suits that would be great choices for mamas who have just had a baby or are still working to get back into shape after having a baby (ahem...that would be me. I have not "just had a baby" anymore, Ben is 7 months old TODAY!). I personally have a few of these, and the others are suits that I have seen or heard good things about, or have particualrly good features for a body in "transition." These choices are great for highlighting the good and camouflaging the not-so-good, they are modest, and they are good for being active on the beach. These are not just lay out and look smokin' hot on the beach options, these are good for playing in the water, taking your toddler back and forth to the potty, and playing catch in the surf. These are also affordable options. There is nothing worse than finding a suit that makes you look 10 pounds thinner, only to look at the tag and find out that it's $189. YEAH, not gonna happen in this house. So these are all reasonably priced and budget friendly. And they're CUTE! So, take a look and see what you think!
1. Island Escape Swimsuit, Tiered Ruffle Top and Solid Brief Bottom, Macys
This swimsuit is perfect if you have just had a baby, and have a little pooch left. It's also good if you have not had a baby and have a little pooch! I actually ordered this from the Macys website, and got it the other day in the mint (which is more like a turquoise-y green. It also comes in black and coral in addition to the blue and green). The bottoms fit a bit small and a bit low, but the ruffles and the generous fit of the tankini top hide any love handles that may sneak out. The top is very flattering, and I am actually looking forward to wearing this one! Total for both pieces- $55!
2. Shirred Halter Tankini Top and Slim Swim Bottom, Shade
This is another one that I have; I ordered it back when Shade had 50% off everything on their site (which actually happens pretty regularly, so sign up for their emails!). I LOVE the way it fits. The shirring across the midsection is very slimming, as is the small polka dot print. The small print hides lots of flaws. The top has underwires, and ties across the back as well as behind the neck, giving great support to the girls. The bottoms, I particularly like, because they come up a little higher, to right below the belly button, and have a waist slimming band. They also offer plenty of coverage to the booty, which is key when you're up and down checking on the babies. The tankini and bottoms come in the black and white polka dot, a super cute coral and white polka dot, and a solid black. There is also a very similar one-piece that gives the same effect, but I personally like the versatility of two pieces. Plus, I am long waisted, though short, so one pieces have always looked odd on me. And f you're small on top and bigger on the bottom, you can mix and match sizes to get the perfect fit. Total for both pieces- $39 on sale now!
3. Nautical Stripe Keyhole Halter One Piece, LOFT
I just said above that I prefer a tankini over a one piece, but this one may change my mind! I am a smidge obsessed with stripes, and I love the keyhole neckline on the suit. It has a bit of gathering through the midsection to hide a bit of bulge, and I like the high cut on the legs, to make them look longer. $79.50
4. Ruched Underwire Tank, J. Crew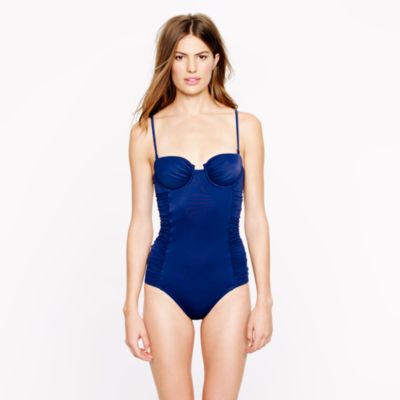 One-Piece bathing suits have come a long way in the past several years! Used to be that te only ones you could find had tropical flowers splashed all over them and looed more suitable for your grandmother that for you. But now you can be a sex kitten/mom of three/bathing beauty/hot mama on the beach! I love the retro silhouette of this suit, the flattering ruching on the side, and the underwire cups to keep the girls up right where they should be. This suit comes in 7 pretty colors, but I think the sea glass and brilliant flame are especially attractive.
$88 (A little steep for me, but it's very classic, and from what I have heard, J.Crew makes a good quality and great fitting swim suit.)
Cute suit, on-trend color, ruched sides, attractive detailing to draw the eye up...what else can you ask for? And oh, it's on sale right now for $36!!! I'm gonna have to snatch this one up, I think.
I hope you saw some suits you liked, and check out each of the retailers too, there are bunches of other really cute ones that didn't make my "top 5." Have a great weekend and happy swimsuit shopping!